A global best-seller, the Leatherman Wave ® + has all the essential tools of the initial with the addition of replaceable, resilient wire cutters. All 18 tools can be opened and locked swiftly, easily to tackle any activity. A lot of these tools are outside-accessible, so you can utilize them when the multi-tool is folded and closed.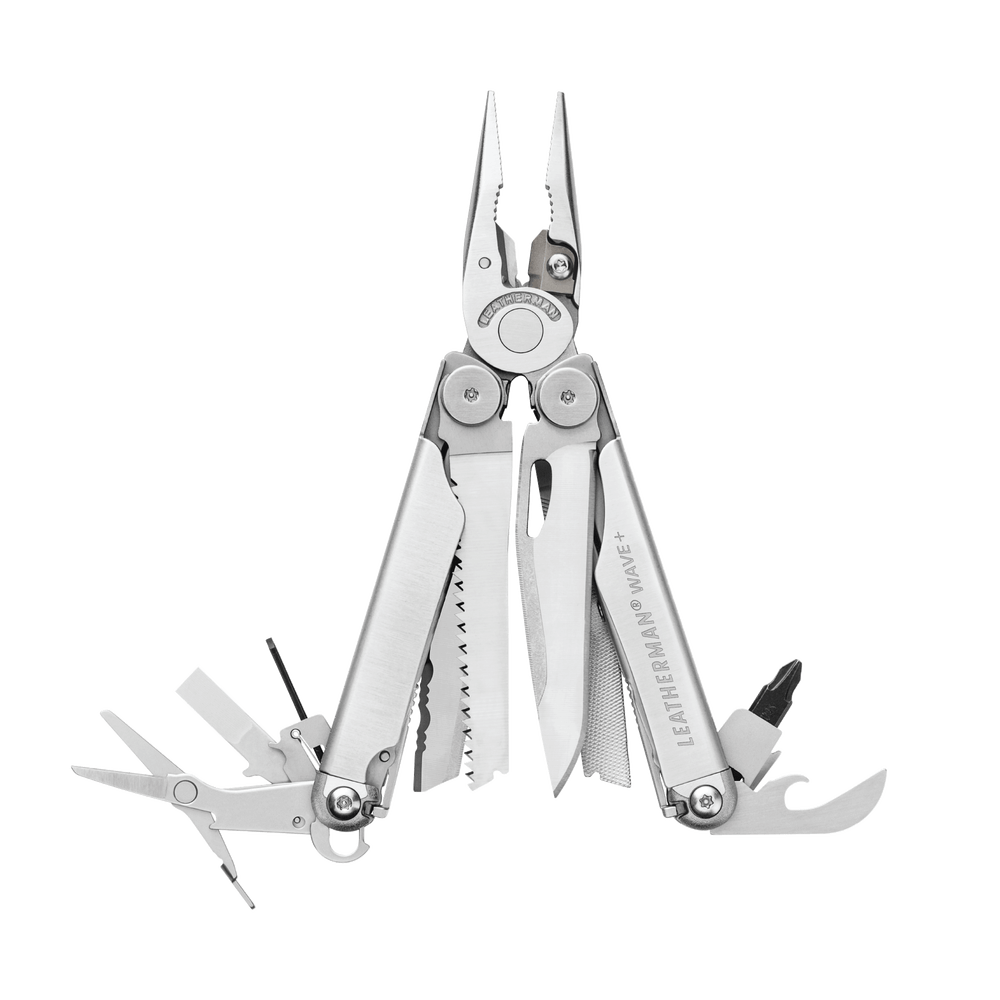 Here are a few of the characteristics of the Leatherman Wave ® +:
All Locking Features: All locking features suggests that every single tool and knife on the body, with the exception of the plier head, will keep into place. Keep in mind that the Crunch; though, consists of 2 features which are plier head and locking tools. The all locking style allows the user to operate specific tools securely and effectively. By locking them into place when totally open, the user can put pressure on the implement while safely accomplishing the job, prior to unlocking the device by hand to stow it away.
Outside-accessible Features: This multi-tool functions device that are working while the tool remains in its closed or folded mode, mimicking the goal of a swiss army knife.
One-hand Operable Functions: Every feature on this tool can be opened and operated with one hand. This makes it possible for the user to keep the other hand free for situations that need multi-tasking or a free hand.
Tim Leatherman (an Oregon local) got his Mechanical Engineering degree from Oregon State University. While on a budget trip to Europe in 1975, Tim and his wife Chau constantly encountered leaky hotel plumbing and road-side repairs for their cranky Fiat. Tim understood there is a demand for a multi-purpose tool. "I was bring a scout knife and utilized it for whatever from slicing bread to fixing the vehicle. However I kept hoping I had a set of pliers!".
When Tim came back to the states, he took his "multi-tool" concept, some sketches he made on the trip and got to work.
When Tim began on the model for this brand-new tool, he believed it 'd take him a month. In fact, it took the next three years to build the prototype he imagined and file for a patent. With the patent application and prototype in hand, he triggered to offer his idea. Unfortunately, the companies he contacted didn't buy. Knife companies thought his development was a tool, and tool companies thought it was a gadget. Neither were interested.
For many years, Tim struggled with many rejections. Luckily he found his college friend, Steve Berliner. They got their first order for 500 tools from Cabela's and launched the first Leatherman tool.
Leatherman build and produce all of their tools in Portland, Oregon. And when it's time to put their tools through their paces, they test them in the great Pacific Northwest. From hiking in the rugged Waterfall Mountains, fishing off of the lovely Oregon coast, or exploring the high desert in the east, they guarantee their tools are reputable for any journey or task, huge or small.